Bed Bugs Don't Belong In Your Home Or Business
Bed bugs are a serious problem in homes and businesses all over the U.S. No one is immune to an infestation, and once they get inside, they can be quite difficult to get rid of. However, bed bugs do not belong in your home or business, and they will make your life miserable for as long as they remain. If you need bed bugs eliminated from your property, it's time to call Urbanex. Our bed bug control treatments will fully eliminate your bed bug problems and keep them away.
Our Bed Bug Control Process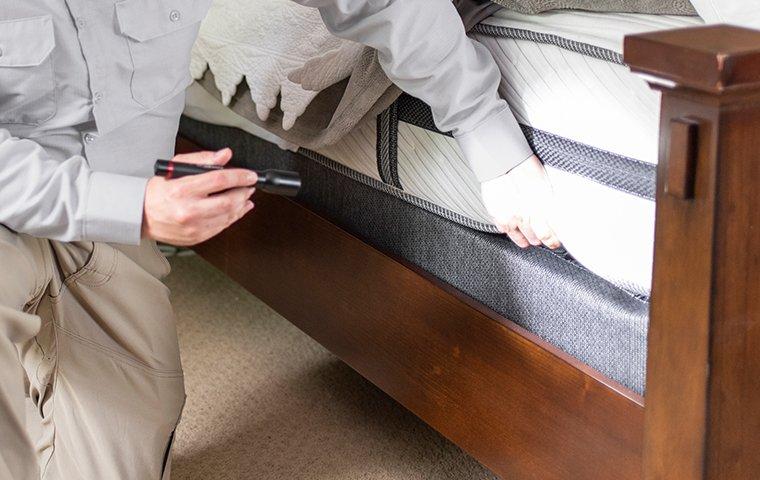 Inspection
We begin your bed bug service with a free inspection. Our goal is to determine where the bed bugs are hiding and how large and widespread the infestation has become. We'll inspect every room, every bed, behind picture frames, on furniture, and more to get a thorough picture of your bed bug activity.
We'll also provide you with a bed bug prep checklist at the end of our inspection. This list will include the things you'll need to do to prepare for our treatment.
Treatment
Our bed bug control treatment uses three types of products to deliver the most effective results. We use liquid, aerosol, and dust products and apply them to baseboards, mattresses, cracks and crevices, wall voids, and more.
If you choose to purchase mattress encasements from us, we'll put them on your mattresses free of charge.
Bed Bug-Free Warranty For Alabama, Georgia, Tennessee, Massachusetts, Kentucky, Florida & Texas
When you choose Urbanex for your bed bug control needs, you'll receive a thorough service that works. Since bed bug infestations can occur at any time, when we treat your bed bug problem, we offer a bed bug warranty when you also purchase our general pest control service. We'll cover any future bed bug infestations whenever they occur, at no additional charge. You won't find an offer like that anywhere else. Contact us today.
Request Your Free Inspection
Complete the form below to schedule your no obligation inspection.