Protection From Mosquitoes In Alabama, Georgia, Tennessee, Massachusetts, Florida, Kentucky, Indiana & Texas
Mosquitoes may be small, but they can drive you back into your house when you try to enjoy time outside. No one wants the hassle of battling a buzzing, swarming hoard. Plus, dealing with itchy mosquito bites for days after an encounter simply isn't worth the trouble. If your Nashville property is overrun with mosquitoes, it's time to contact Urbanex. Urbanex now provides a thorough, affordable mosquito control service to help keep you and your family safe!
Our Mosquito Control Process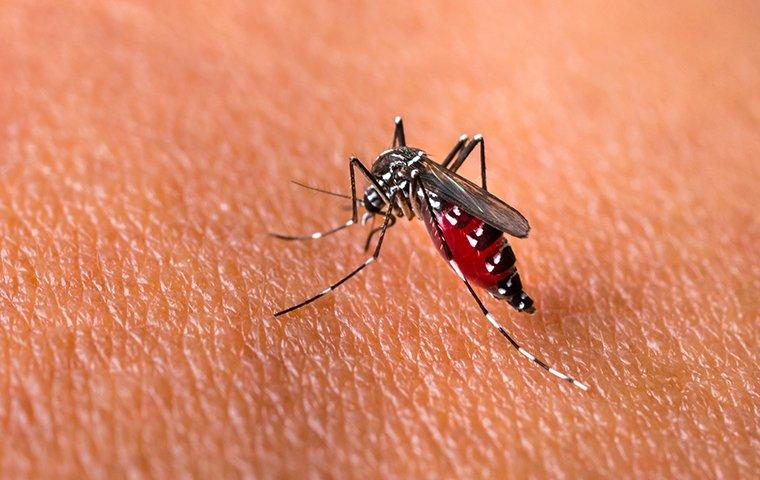 Mosquitoes are often considered a simple outdoor nuisance that cause problems during holiday barbecues and summer evenings on the deck. Unfortunately, they are also a health hazard and can spread a variety of diseases including Zika Virus and Dengue Fever.
Regular treatments focused on common breeding sites and harborage areas can significantly reduce the mosquito population around your home to help keep your family safe.
Inspection
Determining where mosquitoes are spending most of their time on your property is the first step in effective control. We'll inspect your property for harborage areas, standing water, potential breeding sites, and conducive conditions.
This inspection also allows us to provide you with recommendations on changes you can make around your property to lower the mosquito population. For example, eliminating standing water that sometimes collects in children's toys, buckets, and other areas can reduce the number of mosquitoes on your property.
Treatment
Breaking the egg cycle is key to eliminating mosquito populations around the home. Urbanex identifies and treats common breeding sites around the home to slow down reproduction and prevent future mosquito issues. Urbanex uses a mosquito fogger at each service to eliminate adult mosquito populations. Main harborage areas are treated with a combination of products that are fast-acting, effective and safe.
We begin your service by thoroughly treating your property with our backpack fogging machine. Fogging all shrubs and trees, as well as the exterior of your home, targets the adult mosquitoes.
Once the fogging is complete, we'll also place larvicide tablets in breeding areas that you can't eliminate, such as small ponds or other areas of standing water. These tablets target mosquito eggs and larvae so that they can't mature.
Follow-Up Service
Because you cannot fully eradicate mosquitoes, regular follow-up visits help keep their population low on your property. Our seasonal service provides follow-up treatments every 21 days between April and September to keep mosquitoes under control.
Get Back Outside With The Help Of Urbanex
Mosquitoes are annoying and dangerous, but they don't have to keep you stuck inside. With mosquito control from Urbanex, you can get your mosquito problem under control and keep it that way all season long. Get back outside, and enjoy the things you love by contacting Urbanex today.
Request Your Free Inspection
Complete the form below to schedule your no obligation inspection.