Pest Control In Indiana
When you think of Midwest beauty, Indiana is one of the first states that comes to mind. However, the presence of pests can quickly disrupt the serenity and comfort of life in this beautiful state. That's where Urbanex comes in. With over 25 years of experience, we are your trusted partner for pest control in Indiana.
We are committed to providing safe and eco-friendly solutions for a pest-free environment. We offer effective and eco-friendly solutions to eliminate pests and restore peace of mind to your home or business. Let us help you create a pest-free environment where you can thrive.
We offer the best residential and commercial pest solutions in all of these areas. Between our general pest control services and our more specialized treatments for pests like mosquitoes and termites, we offer a broad range of services that bring you the pest-free results you deserve. Contact us today to discuss your pest control needs, and we'll get the process started right away. Below is a list of our service areas in Indiana.
Brownstown, IN
Charlestown, IN
Clarksville, IN
Columbus, IN
Corydon, IN
Floyd Knobs, IN
Georgetown, IN
Henryville, IN
Jeffersonville, IN
Memphis, IN
New Albany, IN
North Vernon, IN
Salem, IN
Sellersburg, IN
Seymour, IN
Scottsburg, IN
Residential Pest Control In Indiana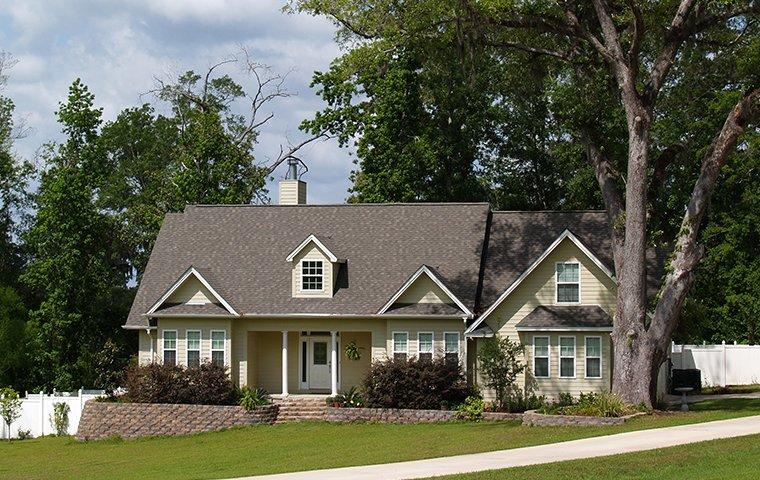 You work hard for your dream home, but the intrusion of pests can quickly turn it into a nightmare. At Urbanex, we understand the importance of a pest-free home and offer residential pest control plans to meet your specific needs in Indiana.
Our process begins with a thorough inspection of your property. Our highly trained technicians carefully assess your home, identifying any existing pest infestations, potential entry points, and conditions that may attract pests in the future. After the inspection, we will communicate our findings and work with a home pest control plan to protect your home.
Our dedication to safety and the environment drives us to use eco-friendly products and innovative pest control techniques that safeguard your family and pets while delivering long-lasting results. Whether you're battling frustrating ants in the kitchen or encountering unwelcome critters in your backyard, Urbanex has the expertise and resources to address any pest challenge effectively. Reach out today to get started on our home pest control services in Indiana.
Commercial Pest Control In Indiana
As a business owner in Indiana, you know how important it is to protect your company's reputation within the community. Not only can pests ruin your reputation, they can drive away customers, damage inventory, and threaten your customers' and employees' health and safety.
At Urbanex, we understand the significance of a pest-free workplace and offer comprehensive commercial pest control services for various industries. Our experienced technicians meticulously assess your property, identifying potential entry points and areas vulnerable to pest infestations. Based on our findings, we develop a customized commercial pest control plan that efficiently targets pests while minimizing disruptions to your business operations and customer experience and meets the specific standards of your industry.
Don't let pests invade your business, drive away your customers, and ruin all your hard work. Call us today and let us develop a Indiana commercial pest control plan to keep your business protected.
Ant Control Mistakes To Avoid In Indiana: Lessons From The Experts
Ant infestations are common in Indiana, and while DIY ant control methods may seem tempting, they can often lead to disappointing results. To effectively handle ant infestations, we recommend avoiding the following mistakes:
Ignoring the Source: Spraying ants with over-the-counter insecticides may kill a few visible ants, but it doesn't address the root of the problem - the ant colony. Identifying and eliminating the ant colony is crucial for long-term ant control.
Inadequate Cleaning: Food particles and sugary spills draw ants. Keeping your home clean and free from food debris will deter ants from entering your living spaces.
Incorrect Identification: Different ant species may require different control methods. Misidentifying the ant species can lead to ineffective treatments.
Overuse of Pesticides: Using excessive pesticides can harm your health and the environment and even make ants develop resistance to the chemicals.
Delaying Professional Help: Ant infestations can spread rapidly. Delaying calling for professional ant control can lead to a larger and more challenging problem.
If you need professional ant control in Indiana, call us right away. Our experts have the knowledge and experience to identify ant species accurately and effectively use targeted treatments to eliminate ant colonies.
How To Prevent Termites From Finding Your Indiana Home
Known as the "Silent Destroyers," termites are destructive pests that can cause thousands of dollars in damage without alerting you to their presence and are a significant concern for homeowners in Indiana. To prevent termites from infesting your home, we recommend the following preventive measures:
Schedule regular termite inspections with a professional pest control provider. Early detection is key to preventing termite damage.
Eliminate wood-to-soil contact and ensure that wooden structures have a gap between the wood and the ground.
Repair any leaks or moisture issues in your home, as termites are attracted to damp environments.
Keep firewood at least 20 feet away from your home and elevated from the ground to reduce the risk of termite infestation.
Consider applying termite-resistant treatments to wooden elements in your home to deter termite activity.
Despite taking preventive measures, termites can still find their way into your home. In such cases, Urbanex provides expert termite control services in Indiana, utilizing advanced technology and treatments to eliminate termites and safeguard your Indiana home from costly damage.
Request Your Free Inspection
Complete the form below to schedule your no obligation inspection.