Nashville Homeowners' Complete Guide To Silverfish Control
February 7, 2021
Winters may be relatively short in Tennessee, but come February, even Tennesseans anxiously await the Groundhog's seasonal prediction. Tradition says that if the Groundhog doesn't see its shadow when it emerges from its winter home, spring is on the way. In Nashville, that usually means a lot of rain.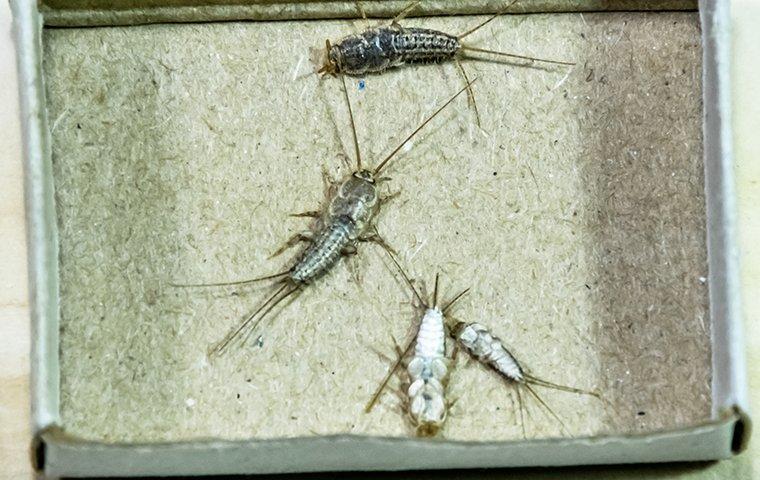 There's one moisture-loving pest that loves the rainy springtime in Tennessee. The slender and scaly silverfish may be harmless to people, but they aren't harmless to the belongings in your Nashville home.
Silverfish And Their Habitat
Silverfish are named for their blue-gray color and the metallic sheen of their exoskeleton. With several antennae, teardrop-shaped silverfish squirm in a swim-like motion, resembling the movement of a fish. Do they look creepy running across your bathroom mirror! As lovers of moisture, they often hang out in damp areas such as bathrooms, basements, or laundry rooms. Outside, they are drawn to dense, damp piles of leaves, mulch, and wood-debris.

Not huge fans of social interaction, silverfish avoid run-ins with people. They are nocturnal insects that hide from potential predators, which sometimes means that homeowners don't know they have a silverfish problem until it's too late. Silverfish don't pose health risks or cause structural damage to homes, but they will take a big bite out of your possessions.
Taking A Bite Out Of Your Possessions
Silverfish consume starches and carbohydrates. They will destroy boxes of cereals, containers of oats, or bags of flour in your pantry. A nightmare to antique book dealers and preservationists, silverfish eat their way through books, photo albums, newspapers, wallpaper, fabrics, and the glue. They eat leather too. When they aren't carb-loading, they seek protein by eating each other or dried scraps of meat.

You can spot an infestation when you find yellowish stains on household items that silverfish like to target or fecal pellets lying around your home. Small bite marks on your bookbindings are another good sign you might have a silverfish infestation.

An infestation from silverfish can be frustrating because of the resiliency and life span of these insects. They can live up to eight years. Their exoskeleton helps them capture moisture and store it, meaning they can go without water for several months and without food for over a year! Worse yet, female silverfish can lay up to three eggs a day all-year long in dark cracks and crannies in your home. When silverfish emerge from their eggs, they are miniature adults and ravenously hungry.
Urbanex Tips For Preventing Silverfish
Silverfish infestations are hard to get rid of on your own. That's why Urbanex suggests the following prevention tips for keeping these nuisance pests out of your Nashville home. These prevention solutions will help you make sure your home doesn't provide a perfect habitat for the silverfish.
Keep your home moisture-free by using fans and/or dehumidifiers.
Eliminate any standing water in or around your Nashville property.
Seal holes, cracks, and other entry points around doors, the foundation, and windows.
Remove piles of debris, leaves, grass, wood, or dense shrubbery around your home.
De-clutter areas, especially paper-products and books.
Ventilate your home.
Store old family photo albums, antique books, and keepsakes in airtight containers.
Seal up starchy items in your pantry in airtight containers.
If You Are Seeing Silverfish, Call The Team At Urbanex
If you find silverfish in your home, it's time to act fast. Call the professionals at Urbanex for reliable pest solutions. We've been serving middle Tennessee since 2015. Our experts are knowledgeable and use safe and effective treatments to keep your home pest-free. Reach out to us today to get started!