Protecting Your Family From The Problems Pests Cause in TN, TX, MA, AL, GA, FL, IN & KY
The health and safety of your family is your highest priority, but pests threaten both. Damage to your home can cause serious injuries, the spread of pathogens can cause serious health problems, and infestations can cause stress and strife. Keeping our area's toughest pests out of your house is the only way to avoid these threats. Thankfully, Urbanex makes it simple with our comprehensive pest control services.
Urbanex provides its customers with state-of-the-art pest control treatments that are designed to bring you maximum, yet safe and environmentally responsible, results. Our service can be broken down into four major components: The Initial service, The back-to-back, Bi-Monthly Visits, and the Complimentary Re-Treat Service. Below, you can read the specifics about each crucial element of our service.
Our Home Pest Control Process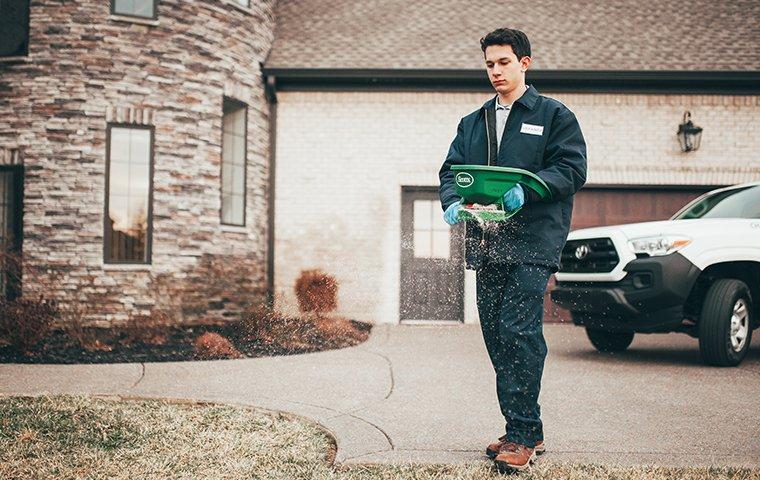 If pests threaten your Nashville house, our four-part service plan will provide maximum protection for your family in an environmentally responsible way. Before beginning the process, we'll inspect your home to identify current pest activity and potential problem areas. This information allows us to tailor your service plan to meet your specific needs.
Initial Service
Our four-part service begins with an Initial Service. We'll start inside your home, using a full repellent product to drive unwelcome pests out. We'll then treat your home's exterior with a full non-repellent product that is undetectable to pests.
Your initial service also includes a full de-webbing of your house and garage. Spiders are a major problem in Nashville, so this service proves invaluable to many homeowners.
We'll also apply a granular treatment. This treatment is water-activated and spread on your yard to provide an additional 20 feet of protection.
Finally, we'll power spray a 3x3 ft. liquid barrier around the base of your house, as well as the eaves, overhangs, and other access points. We'll also treat decks, porches, patios, garages, drains, water meters, mailboxes, and crawlspaces to protect your home from invading pests.
Please note: It is common to experience an uptick in pest activity after the Initial Service. This activity is because the pests inside your house are being driven out because of the treatment.
Back-To-Back Service
Our Back-To-Back Service takes place a month after the Initial Service. Now that your home has been purged of pests, we'll return to apply a protective barrier to the outside of your house. This visit aims to break up the egg cycles, which will eliminate any persistent pests.
Bi-Monthly Service
After your Back-To-Back, we'll begin our Bi-Monthly Service. These treatments occur every other month and will maintain a barrier of protection around your home. Our Bi-Monthly Service includes an exterior treatment, but interior treatments are available when needed.
Complimentary Re-Treat Service
We offer complimentary re-treatments in the unlikely event that pests return to your home in-between your Bi-Monthly Service visits. Simply contact us, and we'll send a technician to you at your earliest convenience. We value our customers and dedicate ourselves to providing service you can count on.
Each of these steps include the following:
Inspections
A certified technician will inspect your home to identify any current pest activity and potential problem areas. These inspections also allow Urbanex to tailor our treatment plan to your individual needs.
Power Spraying
To optimize protection, a 3 X 3 ft. liquid barrier will be applied around the base of your home. Because pests seek to enter the home in any way possible, this barrier will be applied along all eaves, overhangs, and access points around the home.
Granulation
A water-activated product will be applied in the yard, adding an additional 15-20 ft. of protection around your home.
De-Webbing
Because spiders can be a consistent problem, your technician will knock down any existing webs that may be found on your home. Often times, these spiders will use a process known as ballooning to get onto your home from surrounding trees and structures. Combined with the liquid barrier on your home, de-webbing proves to be an invaluable part of our service.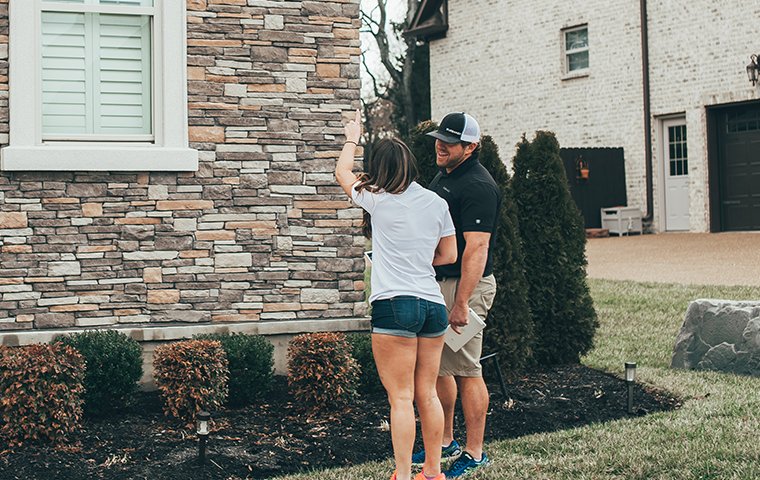 Inspection
Although we follow a four-part service plan to combat general pests, we always begin your service with an inspection. This inspection allows us to identify pest activity in order to tailor our service plan to your specific needs.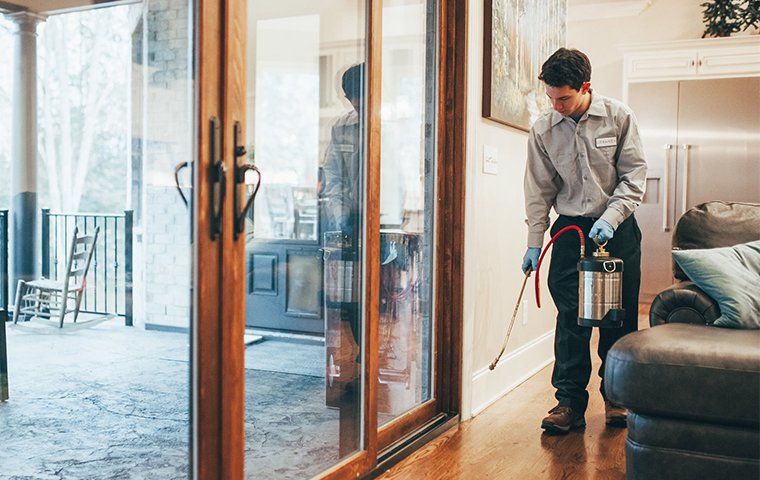 Treatment
Our initial service visit flushes pests out of your house and provides protection all around the exterior of your property. We then return 30 days later to perform another treatment to break up the egg cycles of persistent pests.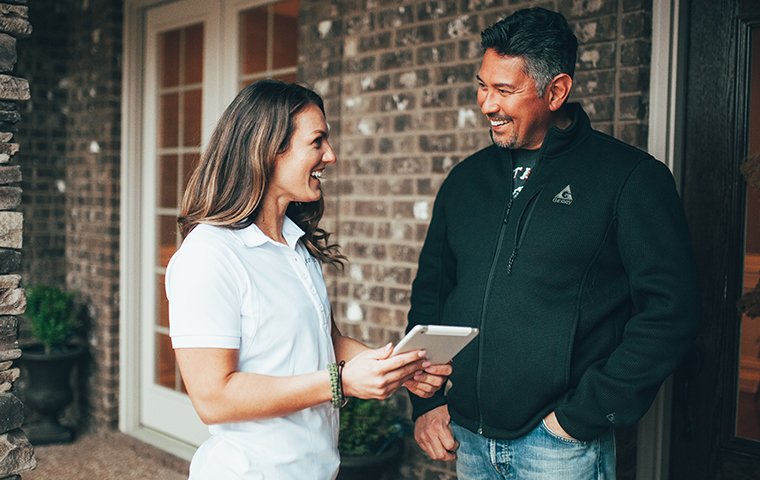 Follow-Up
After the first two treatments, we'll switch to bi-monthly service visits to maintain your home's protection against pests. We also provide complimentary re-treatments if, for some reason, you have a recurrence between scheduled services.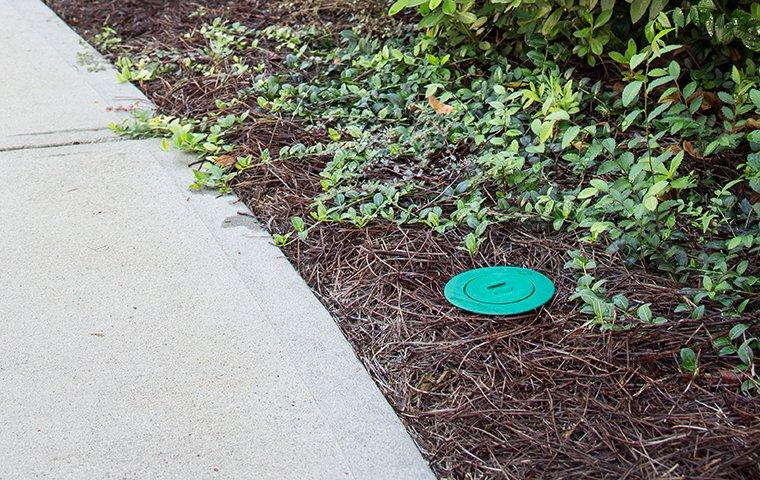 Our Specialized Services
While our general pest control protects your home from a wide variety of pests, some pests require specialized treatments in order to get rid of them.
At Urbanex, we offer several pest-specific services to help our customers maintain their pest-free homes. These include:
Thorough Service You Can Trust In Alabama, Georgia, Tennessee, Massachusetts & Texas
At Urbanex, our residential pest control plans are thorough, safe, and tailored to each customer's unique needs. Because we are committed to providing you with unmatched service, we have developed a method that effectively eliminates and prevents pest infestations, and we back it with guaranteed re-treatments. If your Nashville home needs pest control, contact Urbanex today.
Request Your Free Inspection
Complete the form below to schedule your no obligation inspection.