Pest Control In Tennessee
Living in Tennessee is a real blessing. Between the friendly people, the beautiful nature, and our year-round humid, subtropical climate, the state of Tennessee is a wonderful place to live, work, and play. However, local pest populations are in total agreement, and that means Tennessee properties are at risk of experiencing pest infestation. If you own a home or business in the area, it's important to address your pest control needs, and if you're looking for guaranteed pest protection, you've come to the right place.
Welcome to Urbanex, your go-to source for dependable Tennessee pest control. Since 2015, we've been servicing homes and businesses with effective residential and commercial pest solutions that last. All of our pest control solutions are customized based on the specific circumstances of your infestation, and our team of highly trained pest technicians offers customers the most effective, efficient, state-of-the-art pest control solutions on the market. We're proud to service a long list of local Tennessee communities, including the following:
Adams, TN
Antioch, TN
Ashland, City, TN
Athens, TN
Belle Meade, TN
Bethpage, TN
Castalian Springs, TN
Chapel Hill, TN
Chattanooga, TN
Christiana, TN
Clarksville, TN
Cleveland, TN
College Grove, TN
Collegedale, TN
Cottontown, TN
Cunningham, TN
Dickson, TN
Eagleville, TN
Friendsville, TN
Gallatin, TN
Goodlettsville, TN
Greenbrier, TN
Hartsville, TN
Hendersonville, TN
Jefferson City, TN
Knoxville, TN
La Vergne, TN
Lascassas, TN
Lebanon, TN
Lenoir City, TN
Loudon, TN
Louisville, TN
Madison, TN
Madisonville, TN
Millersville, TN
Mount Juliet, TN
Mount Pleasant, TN
Murfreesboro, TN
Nashville, TN
Nolensville, TN
Philadelphia, TN
Pleasant View, TN
Portland, TN
Sevierville, TN
Shelbyville, TN
Smyrna, TN
Soddy Daisy, TN
Springfield, TN
Thompson's Station, TN
Watertown, TN
Westmoreland, TN
White Bluff, TN
White House, TN
We offer the best residential and commercial pest solutions in all of these areas. Between our general pest control services and our more specialized treatments for pests like mosquitoes and termites, we offer a broad range of services that bring you the pest-free results you deserve. Contact us today to discuss your pest control needs, and we'll get the process started right away.
Residential Pest Control In Tennessee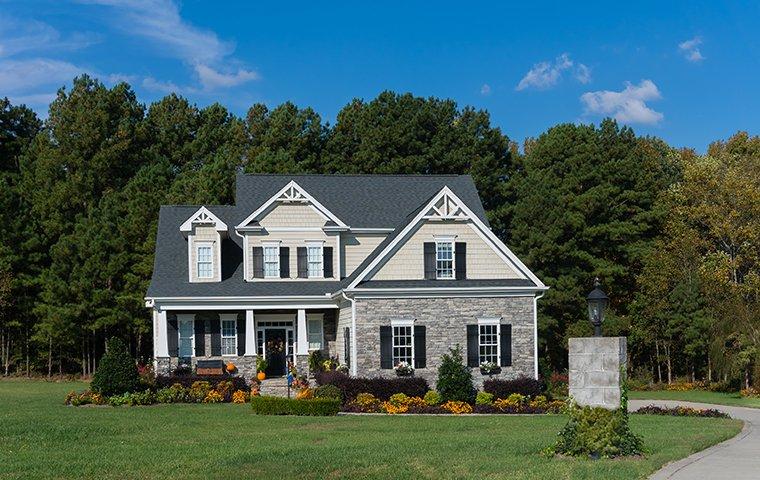 Our home pest control solutions cover your house's interior and exterior, paying special attention to common problem areas, potential entry points, and any conducive conditions around the property.
Our extensive process included the following four components:
Initial Service – Use of full repellent and non-repellent products throughout interior and exterior, respectively
Back-to-Back – One-month checkup on property and installation of protective exterior barrier
Bi-Monthly Visits – Regular follow-up visits to maintain the protective barrier
Complimentary Re-treatment – Guaranteed re-treatment at no extra cost in the event of returning pest activity
No matter what type of pest problem you're dealing with, give us a call today. We'll help you determine your specific pest control needs and then come up with a custom plan just for you. From power spraying and granulation to de-webbing and protective barrier maintenance, we'll cover your property from all angles. Contact us to learn more.
Commercial Pest Control In Tennessee
A commercial pest infestation can cause large-scale issues for your business and everyone inside of it. The most effective way to protect your Tennessee business is with ongoing services from the professionals. Here at Urbanex Pest Control, we commit ourselves to bring your facility pest-free conditions all year long. We cover a broad range of businesses from pest infestation, including restaurants, office buildings, daycares, veterinary hospitals, retail stores, and yacht clubs.
We know every infestation has its own unique set of circumstances, which is why we treat every job with customized care and attention. Not only are our treatments catered to meet your facility's needs, but we also offer guaranteed, complimentary re-treatment should a pest problem return between service visits. Contact us today to discuss your commercial pest control needs.
Is Professional Mosquito Treatment Right For My Tennessee Home?
If you're wondering whether or not professional mosquito treatment is right for your Tennessee home, the answer is simple: yes, it is. Mosquitoes aren't just nuisance pests. They are dangerous vector pests that carry diseases and spread them amongst animals and humans. As they feed on your blood, they secrete their saliva you're your bloodstream. That means that if a mosquito is carrying an infectious disease, it can transmit it into the blood of its chosen host.
Some of the more well-known mosquito-borne illnesses include malaria, West Nile, and Zika virus. The best way to protect your home and your loved ones from mosquitoes is to secure professional mosquito treatment. Here at Urbanex, we offer comprehensive mosquito control services. Get in touch with us today, and we'll walk you through our mosquito control and prevention solutions.
How To Avoid Ant Infestations In Tennessee
An ant infestation can be overwhelming, but there are some ways to prevent ants from invading your home.
Here are some tips for avoiding ant infestations in Tennessee:
Be conscious of your cleanliness.
Clean up spills and crumbs immediately.
Keep all potential entrances sealed off.
Keep food properly stored in airtight containers.
Regularly sweep and vacuum your space.
Repair any cracks and crevices
Spray ant barrier insecticide around your home.
Wash dirty dishes promptly.
If you want to secure the proper protection from an ant infestation, call Urbanex today. Our ant control and prevention services guarantee ant-free results you can rely on. Reach out to request your detailed quote.
Request Your Free Inspection
Complete the form below to schedule your no obligation inspection.