Pest Control In Florida
What does effective Florida pest control look like? It depends on the pests you're hoping to control. General pests can be managed with routine treatments. Difficult pests require specialized programs. Let's take a look at a few specific examples and discuss some of the ways your Urbanex service technician can help you get control of Florida pests.
We offer the best residential and commercial pest solutions in all of these areas. Between our general pest control services and our more specialized treatments for pests like mosquitoes and termites, we offer a broad range of services that bring you the pest-free results you deserve.
Contact us today to discuss your pest control needs, and we'll get the process started right away. Below is a list of our service areas in Florida.
Apollo Beach, FL
Belleair, FL
Bradenton, FL
Brandon, FL
Clearwater, FL
Lakeland, FL
Lutz, FL
Plant City, FL
St. Petersburg, FL
Tampa, FL
Tarpon Springs, FL
Temple Terrace, FL
Zephyrhills, FL
Residential Pest Control In Florida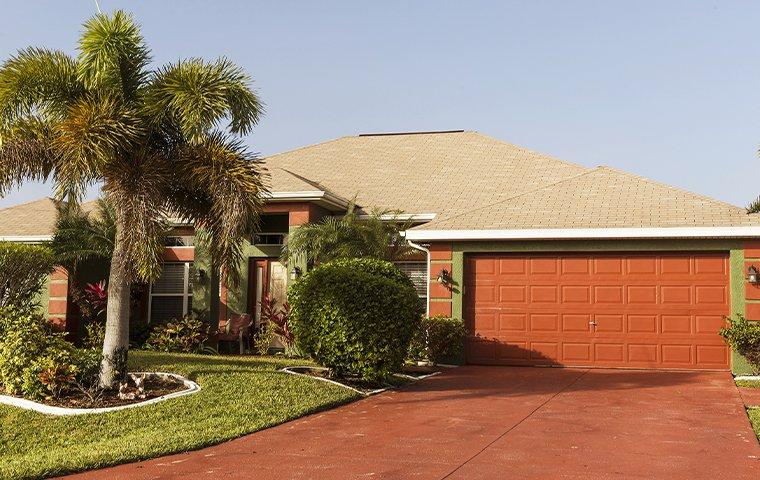 The goal of pest control is to drive pests out and keep them out. The process we use for general pests is simple.
We treat the inside of your home with a repellent that drives pests out.
We apply a spray treatment to your exterior. The product we use cannot be detected by pests and it works as a knockdown agent.
If you have a crawl space, we may apply a microdust treatment along with other treatments. Crawl spaces tend to be very attractive to pests and need special care.
We apply a water-activated product in your yard to add an additional 20 feet of protection.
We remove spider webs in your garage, near your home, and in key areas on your property.
These and other treatment methods work to manage general pests. Some pests require more effort. Here are a few examples.
Bed bugs are hitchhiking pests. They don't live in your yard and they don't come into your home through exterior entry points. The treatments we apply are meant to target and knock down any bed bugs hiding in your home.
Termites are sneaky pests. They require treatment options that counteract their ability to damage your property right under your nose. We trust products like the Sentricon® System with Always Active™ which make termite monitoring a breeze and provide active colony elimination 24/7/365.
Mosquitoes can be deterred by general treatments but the best solution is to apply a fog treatment to arrest activity and larvicides to address breeding sites.
If you're looking for residential pest control for your Florida home, it should look like this. Don't settle for anything less.
Commercial Pest Control In Florida
In many ways, commercial pest control is similar to residential pest control. The key differences are that there are factors in commercial environments that make pest management more difficult, and there is often zero-tolerance for pests. We perform detailed inspections, speak with you about your concerns, and provide industry-leading solutions to get the control you need.
All The Ways Cockroaches In Florida Are Harmful To Your Health
Cockroaches are pests that require targeted control. While general pest control can help to drive roaches out and eliminate them, the health risks associated with cockroaches demand a greater level of pest control. What are the health risks?
Cockroaches spread harmful bacteria, parasitic worms, and human pathogens.
Cockroach infestations result in higher incidences of hospitalizations for asthma-related symptoms.
Cockroaches can cause rashes when they crawl on the skin.
Exposure to roaches can result in conjunctivitis.
Cockroaches feed on dead skin and can accidentally bite people around the eyes and mouth at night.
Cockroaches eat cardboard, paper, fabrics, and more.
The droppings left by cockroaches create a mess and are a source of contamination.
At the first sign of cockroaches, it is time to contact a licensed cockroach control professional for a detailed treatment. You shouldn't allow any roaches to live in your Florida home.
Protecting Yourself From Ticks While Out & About In Florida
There are treatments that can give you control of ticks on your Florida property, but what do you do when you're away from your home? There are many ways you can prevent tick bites and catch ticks early.
Mosquito repellent is a great option. The products used to repel mosquitoes work to repel ticks as well. Spray some bug dope on your legs and you'll have no trouble with ticks when you go out for a walk.
If you don't want to spray repellent on your legs, consider tucking your pants into your socks and wearing bright colors. This will help you see any ticks that try to scale your body to get to your hair.
When you return from being in wooded areas and other zones that are high in tick activity, always do a tick check. Early detection can prevent the spread of diseases. When you find a tick, use a tick removal tool to get it off. If you don't have one, try needle-nose tweezers. Pinch near the head of the tick and pull outward and upward.
Ticks are a growing concern in Florida. It is important to stay vigilant about tick control and tick bite prevention.
Request Your Free Inspection
Complete the form below to schedule your no obligation inspection.