Do you spray the inside of the home every visit?
Because the way our service is set up, it is not necessary to treat inside every quarter. In the event that you start to see pest activity on the inside of the home, we are more than happy to treat the interior of your home at your next service. If the issue cannot wait until the next service, we offer free re-services to our customers.
Are the products you use safe for my kids and pets?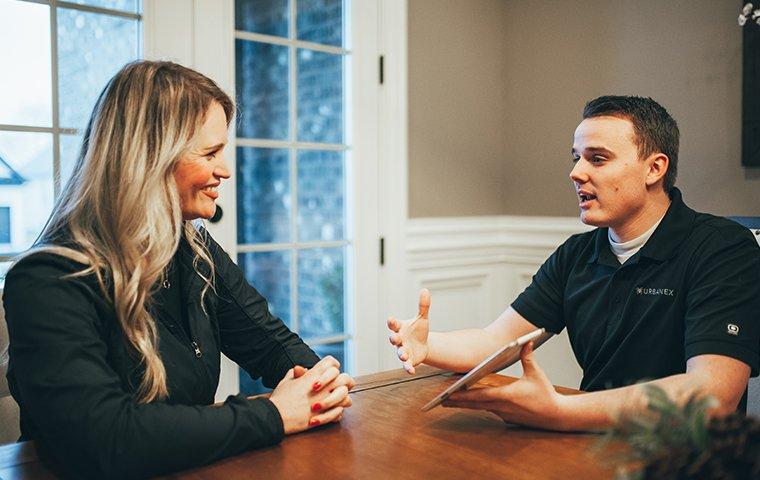 Urbanex uses top quality products to ensure the safety of our customers, their kids, and their furry friends. Products used by Urbanex are also used in hospitals, daycare facilities, and other institutions that have high safety standards.
Why do you have to come back 30 days after the initial service?
Bugs reproduce in 30 day cycles, therefore it is necessary to return within 30 days to break the reproduction cycle. In the initial service, we are flushing away the adult bugs, and on the back to back service we are treating for the egg sacks and larvae that were hidden in the walls, but have now hatched. This is an integral part of what makes our pest control service so effective. We believe in eradicating the problem to begin with and maintaining barrier of protection, rather than constantly chasing the pest problem around your home.
Do I need to be home?
Because it is not necessary to treat the interior of the home every time, no you do not need to be home. If you would like to be home for the service, simply contact the office when you receive your service notification, and set up a time for your appointment.
How do I pay for services?
We accept all major forms of Credit/Debit Cards. This is the easiest and most secure way to receive payment for services. Once the office receives the invoice from the service performed, they will require payment. If a CC is already on file, they will process that with the customers permission.
How do I know if a service has been completed?
When a service has been completed, we will leave a door hanger tag on the front door with a personal message from the technician. Once that step is complete, the technician will fill out your service invoice. After the invoice is processed, the customer will receive an email with a link to their customer portal to view a digital copy.
Request Your Free Inspection
Complete the form below to schedule your no obligation inspection.