Pest Control In Oklahoma
If you live in Edmond, OK, and you've been considering Oklahoma pest control, it is likely that you have questions. We hope to answer many of those questions right here. Let's start on the inside and work our way out through the pest control barrier you should have around your home and finish with what works to stop pests that pass through your yard. How does that sound? Great. Let's get into it, below are our Oklahoma Service areas:
Arcadia, OK
Bethany, OK
Bethel Acres, OK
Bixby, OK
Blanchard, OK
Broken Arrow, OK
Choctaw, OK
Del City, OK
Edmond, OK
El Reno, OK
Glenpool, OK
Guthrie, OK
Jones, OK
McLoud, OK
Midwest City, OK
Moore, OK
Mustang, OK
Newcastle, OK
Noble, OK
Norman, OK
Oklahoma City, OK
Piedmont, OK
Sand Springs, OK
Sapulpa, OK
Shawnee, OK
Stillwater, OK
Tulsa, OK
Tuttle, OK
Yukon, OK
We offer the best residential and commercial pest solutions in all of these areas. Between our general pest control services and our more specialized treatments for pests like mosquitoes and termites, we offer a broad range of services that bring you the pest-free results you deserve. Contact us today to discuss your pest control needs, and we'll get the process started right away.
Residential Pest Control In Oklahoma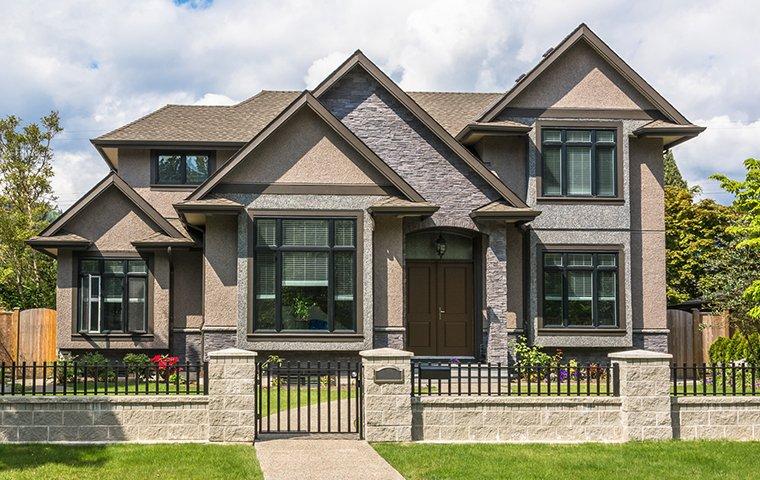 When you partner with Urbanex for residential pest control in Edmond, OK, and the surrounding area, we apply several layers of protection. It all begins on the inside of your home.
We inspect your home and property to determine where pests are active and we evaluate what conditions are allowing them to be active.
In your home, we target pests and arrest pest activity.
We apply repellent products that drive pests out and add a layer of protection to keep pests out.
On the outside of your home, we apply a non-repellent barrier. Pests that attempt to get into your home cannot avoid this barrier and it works to stop pests in their tracks.
We roll our sleeves up and do the hard work of pest maintenance which we believe goes above and beyond what many other service providers offer. You'll be able to tell we're different in that we offer a web-free guarantee. If we miss one spider web, we'll come back and get it. Our goal is to inspect every inch of your home and address every detail. Our attention to detail will surprise you and it doesn't just apply to de-webbing.
We use many methods and products that are 100 percent eco-friendly, such as glue boards to cull pests and monitor pest activity.
We apply micro dust treatments to cracks and crevices, openings, weep holes, and more. This adds yet another level of protection.
In your yard, we apply a granular treatment. This is a water-activated product that provides an extra 20 feet of pest protection.
You may notice an increase in pests around your home after we begin treatment, but keep in mind that this is because the pests are being driven out. As they pass through the non-repellent barrier, they're not going to remain active around your home for long. If you'd like this level of protection for your Oklahoma home, connect with us today to get started.
Commercial Pest Control In Oklahoma
We apply the same level of exterior protection for homes and businesses. All of the residential services apply to our commercial customers. Along with these barrier treatments, we offer targeted control for specific commercial pest challenges such as bed bug inspections, termite control, boat dock services, rodent control, mosquito control, and more. Our commercial pest control service technicians work with you to find the right mixture of services for your specific needs.
Why Are There So Many Mosquitoes In My Oklahoma Yard?
A female mosquito lays 100 eggs at a time. When those eggs hatch, little wigglers develop into tumblers and eventually emerge from their stagnant water breeding sites as flying adults. All it takes is one batch of eggs a little over a week to create a swarm of mosquitoes in your yard. This is primarily why you have so many mosquitoes in your yard. If you'd like to not have all those mosquitoes, consider getting seasonal mosquito misting service from Urbanex. We address adult mosquitoes and treat breeding sites to get the best possible control of mosquitoes on your property.
Common Ants In Oklahoma, And How They Affect You
We could write several articles on this top alone. There are many pest ants in our Oklahoma service area. Let's zero in on three very common ant species that are very different from one another.
Carpenter Ants — Certain species of carpenter ants are what we call home-wreckers. They tunnel into wood to create their nests and this can cause damage to the wood of your home.
Fire Ants — In our area, these ants aren't quite as bad as in the southern portion of the state, but they are no less troublesome for Edmond, OK, property owners. Fire ants sting, and for individuals with an allergy to fire ant stings, these stings present a danger.
Sugar Ants — These are ants that have a sweet tooth. They scale homes to get to hummingbird feeders. They get into trash receptacles and raid pantries, kitchens, and interior trash bins. While super annoying, they're only considered a minor health threat and are not known to damage property.
If you have an ant problem, it is essential to properly identify the ant species so that an appropriate treatment is applied. Keep Urbanex in mind. Our service technicians are highly trained and experienced professionals. We can diagnose your ant problem and offer an effective ant control solution. Connect with us today.
Request Your Free Inspection
Complete the form below to schedule your no obligation inspection.